Tour Code: XMMT03
Start: Xiamen
Finish: Wuyishan
Duration: 5 DAYS/4 NIGHTS
Overnight: Xiamen(2) Wuyishan(2)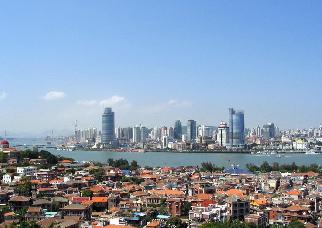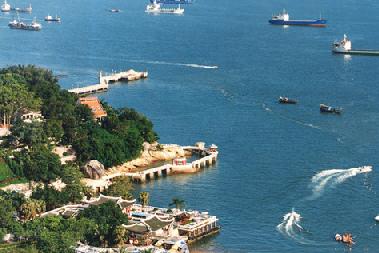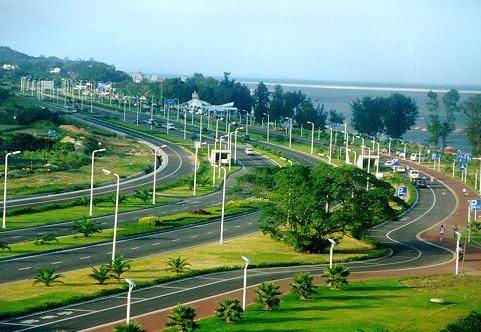 Xiamen Gulangyu Xiamen Shuzhuang Garden Xiamen Island Ring Road
ITINERARY
Day 1: Arrive Xiamen
Pick up at airport or railway station; transfer to hotel.
Overnight: San Siro Hotel Xiamen (4 star, www.sansirohotel.com)
Day 2: Xiamen-2.5H-Nanjing Tulou--2.5H-Xiamen
In the morning , take a 2.5-hour drive toNanjing Tulou Area, visit Tianluokeng Tulou Cluster, Yuchanglou(leaning structure Hakka house) and Taxia village, transfer back to Xiamen after the tour.
Meals:Chinese lunch
Overnight: San Siro Hotel Xiamen (4 star, www.sansirohotel.com)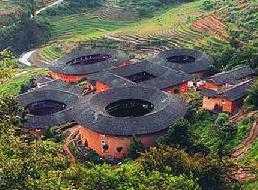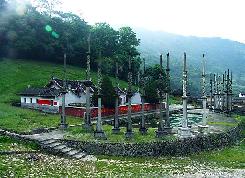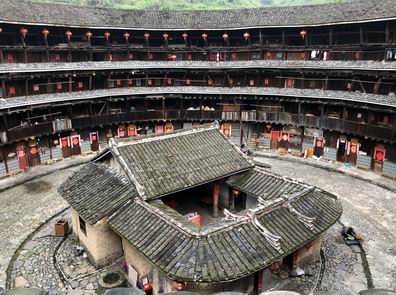 Tianluokeng Taxia Village Yuchanglou
-Tianluokeng Tulou: located in Shangban Village, Shuyang Town. The castle, composed primarily of four round and one rectangular earthen house, is one of the most magnificent and well-preserved Hakka Castles in the area. The village is also listed in the Famous Historic Cultural Village in China for its typical cultural regional system.
Yuchanglou
:
Located in Xiaban Village, Fuyulou was built in 1308 and is one of the oldest existing Tulou. This five-story earth building is most famous for its tilted pillars. The most extreme is slanted at15-degree angle. Yuchanglou has been like this for more than 600 years and remains intact today.
Taxia Village: This exquisite Hakka village is located in a valley in Shuyang Town. There are more than 20 earthen building of different shapes built along the bank of a clear brook that flows through the entire village. Another major attraction is Zhang's Clan Ancestral Hall, Next to a pond, 20 stone flagpoles rise like a stone forest in front of it. As one of the most well-reserved ancient clan house in China, Zhang is Clan Ancestral Hall is listed among the key culture relics protected under national level.
Day 3: Xiamen North/Wuyishan East (bullet train, G1678 15:40/18:35)
In the morning, transfer to the ferry for a 20-minute boat trip to Gulangyu. Take a peaceful walk and appreciate the buildings before visitingShuzhuang Garden, a beautiful seaside garden and the famous Piano Museum. Also visit South Putuo Temple, the most famous Buddhist temple in town, then take a scenic drive along the beautiful Island Ring Road before transferring to airport.
Meals:Chinese lunch
Overnight: Wangfeng Garden Hotel (4 star)
Day 4: Mount. Wuyi
A full day to enjoy the natural beauty of Mount Wuyi, the world Natural and Cultural Heritage Site; Float down the Jiuqu (Nine twists) Stream on bamboo rafts fitted with rattan chairs. Visit Wuyi Palace and ancient Song Street Climb up Tianyou Peak -the sheer rock peak that just rise skywards.
Meals:Chinese lunch
Overnight: Wangfeng Garden Hotel (4 star)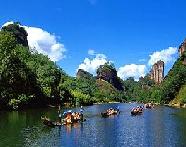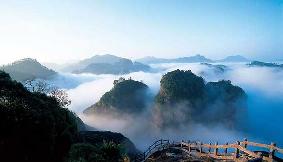 Jiuqu Stream Tianyou Peak Xiamei Village
Day 5: Depart Mount. Wuyi in the afternoon
Visit Dahongpao Scenic Area where the famous Wuyi Rock Tea is grown, also visit Xiamei Ancient Village; The walk in the Xiamei Village brings you back in time to the Ming (1368 - 1644) and the Qing (1644 - 1911) Dynasties. Most of buildings are very well preserved and featuring the sculpture of brisk, wood and stone, which is one part of the Wuyi World culture heritage, Tranfer to railway station or airport after the tour
Meals:Chinese lunch
Price of this tour:
| | | | | | | | | | | |
| --- | --- | --- | --- | --- | --- | --- | --- | --- | --- | --- |
| | 1 | 2 | 3 | 4 | 5 | 6 | 7 | 8 | 9 | 10 |
| | 8100 | 4700 | 3800 | 3300 | 3000 | 2850 | 2800 | 2750 | 2700 | 2700 |
Valid Date: until Dec 2018
Price includes:
1.All transfer and tours with private vehicle and local English-speaking tour guide 2.Entrance fee as listed 3.Meal as listed (daily lunch)
4.Accomodation (twin or triple share, 4 nights) with breakfast as listed
5. Xiamen-Wuyishan high-speed train (2nd class)
Price Not Include:
1.Dinner
2.Tips for guide and driver
1.Surcharge might apply during Public Holidays
2.Hotel and train upgrading is availble with additional cost.
3.No shopping stops or factory visit