Feedback
Dear, Fish
We wanted to share our pleasure with the tour. Ann was a wonderful tour guide, kind, knowledgeable and engaging. We so enjoyed our time spent with her.....Read More
Teddi Dunham

info@discoverfujian.com
Home >> Fujiantours >> Mini Tour
Xiamen-Fujian Tulou 4-Day Tour
---
Tour Code: XMMT03
Start: Xiamen
Finish: Xiamen
Duration: 4 DAYS/3 NIGHTS
Overnight: 2 nights in Xiamen1 night in Taxia Village in Nanjing Tulou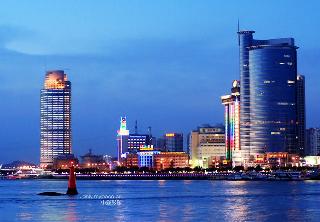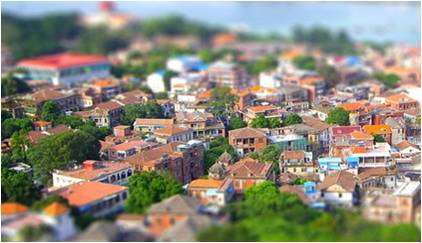 Night View of Xiamen City Old Villa on Gulangyu Island Tulou life
Pick up at airport or railway station; transfer to hotel.
Overnight: San Siro Hotel Xiamen (4 star, www.sansirohotel.com)
In the morning, transfer to the ferry for a 20-minute boat trip to Gulangyu. Take a peaceful walk and appreciate various old buildings before visiting Hi Heaven, the largest old villa on the island where you can enjoy ancient South Music performance and traditional Puppet Show; also visit Shuzhuang Garden, a beautiful seaside garden and the famous Piano Museum with a collection of 80-fold rare old pianos from all over the world. Then take the ferry back to Xiamen. Visit South Putuo Temple, the most famous Buddhist temple in town followed by a scenic drive on the Island Ring Road along the East Coast of Xiamen, also visit the Eighth Seafood Market, tthe most famous and popular fish market in the old town center.
Overnight: San Siro Hotel Xiamen (4 star, www.sansirohotel.com)
Day 3: Xiamen-3H-Yongding
In the morning, take a 3-hour drive to Yongding, visit Nanxi Tulou Cluster and Chuxi Tulou Cluster, check in hotel in Taxia Village
Overnight: Weiqunlou Guesthouse (Original Tulou with private toilet and bathroom), Taxia Village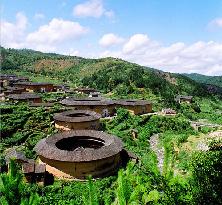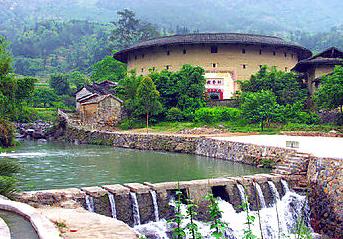 Chuxi Tulou Cluster Nanxi Tulou Cluster
Nanxi Tulou Cluster: Nanxi is a creek in Hukeng town, Yongding county. It flows through various Hakka villages and pass through the valley, surrounded by green mountains and terraces. Along the creek, there are over 100 tulou of different shapes: round, square, octagon, hexagon, triangle, D-shape, ellipse, and even round and square combinations. The tulou are scattered along valleys and banks, like a dragon snaking for tens of kilometers.
Chuxi Tulou Cluster: includes five large circular buildings and ten rectangular buildings. Jiqinglou is the oldest and most special round earth buildings in this area. It is almost 600 years old and covers a total area of 2826 m2 with 206 rooms. Unlike normal round earth building that usually got only four public stairways, Jiqinglou is equipped with 72 stairways, which divide the whole building into 72 independent units. All rooms, stairways and interior walls are constructed with wood and rabbet structure. Not even a single nail is used for the construction and the earth building remains intact after 600 years.Jiqinglou also houses more than 10,000 exhibits about the unique life, history and culture of the Hakka people
Day 4: Nanjing-2.5h-Xiamen
In the morning, visit Tianluokeng Tulou, Yuchanglou and Taxia village, ttransfer back to Xiamen airport or railway station after the tour..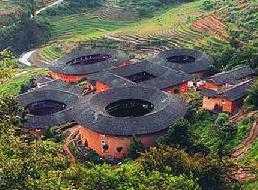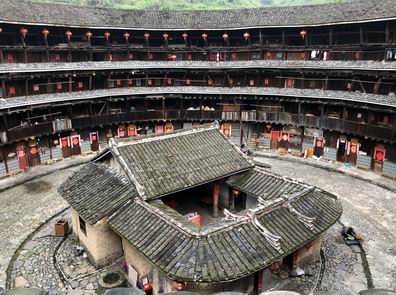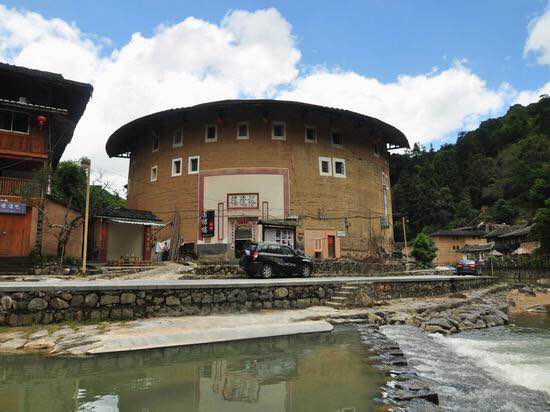 Tianluokeng Tulou Yuchanglou Taxia village
Tianluokeng Tulou: located in Shangban Village, Shuyang Town. The castle, composed primarily of four round and one rectangular earthen house, is one of the most magnificent and well-preserved Hakka Castles in the area. The village is also listed in the Famous Historic Cultural Village in China for its typical cultural regional system.
Yuchanglou: Located in Xiaban Village, Fuyulou was built in 1308 and is one of the oldest existing Tulou. This five-story earth building is most famous for its tilted pillars. The most extreme is slanted at15-degree angle. Yuchanglou has been like this for more than 600 years and remains intact today.
Taxia Village: This exquisite Hakka village is located in a valley in Shuyang Town. There are more than 20 earthen building of different shapes built along the bank of a clear brook that flows through the entire village. Another major attraction is Zhang's Clan Ancestral Hall, Next to a pond, 20 stone flagpoles rise like a stone forest in front of it. As one of the most well-reserved ancient clan house in China, Zhang is Clan Ancestral Hall is listed among the key culture relics protected under national level.
| | | | | | | | | | | |
| --- | --- | --- | --- | --- | --- | --- | --- | --- | --- | --- |
| | 1 | 2 | 3 | 4 | 5 | 6 | 7 | 8 | 9 | 10 |
| | 6700 | 3600 | 2800 | 2400 | 2250 | 2100 | 1950 | 1850 | 1750 | 1650 |
Valid Date: until Dec 2020
1. All transfer and Tours with private vehicle and local English speaking tour guide
2. Entrance fees as listed
3. Meal as listed (daily lunch)
4. Accommodations (twin or triple share, 3 nights) with breakfast as listed
1. Tips for guide and driver
2. Dinner
1-4 person: Buick MPV or similar
5-6 person: 9-seat Hiace van or similar
7-10 person: 19-seat Golden Dragon coach or similar
Surcharge might apply during National Holidays and Major Fair period.
.Hotel upgrading is available upon request with addtional cost.
No shopping stop or factory visit

Enquire About This Tour