Fujian Tulou Layout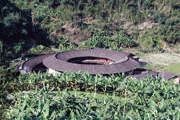 The West part of Fujian province is a rural area dominated by rugged terrain and farmland. The Hakka inhabitants, an ethnic minority, built earthen castles (Tulou) for their clan homes and they are found beside the streams flowing from the highlands. Over twenty thousand of these houses still stand today, ten of which are over 600 years old. The oldest one, "Fu Xing Lou" in Hu Le town, was constructed over 1,200 years ago and is regarded as a "living fossil" of the construction style of central China.
---
We recommend in Fujian Tulou and Surrounds
◎ Hongkeng Tulou Cluster, also known as Yongding Hakka Cultural Village, is located in Hukeng town. It iis the most concentrated of all earthen house clusters. Some of the house designs are unique, including the Zhenchenglou, Fuyulu ("Five-Phoenix House") Kuijulou, and Rushenglou, More
◎ Chengqilou, "the King of Tulou" is The biggest tulou in Yongding County following a very classical design with a large central hall. More
◎Tianluokeng Tulou Cluster, located in Shangban Village, Shuyang Town, composed primarily of four round and one rectangular earthen houses,More
◎Yuchanglou, Located in Xiaban Village, Fuyulou was built in 1308 and is one of the oldest existing Tulou. This five-story earth building is most famous for its tilted pillarsMore
◎Changjiao Ancient Village , This beautiful ancient village is named after the Changjiao Brook that connects Heguilou and Huaiyuanlou. Along the banks of the brook are ancient banyan trees, ancient building and patches of farm land.More
◎Eryilou, Built in 1770, is called the King of the preserved 1,000 Tulou. With a plane diameter of 73.4 metres, Eryilou houses 192 rooms in 12 units on its four floors and a 600 square metres yard inside..More
Transfer
◎Most of Fujian Earth Buildings are scattered around the mountain area between Yongding County and Nanjing County. The best way to visit the area is to hire a local vehicle.
◎There is long-distance bus from Xiamen to Yongding or Hongken and it takes about 4 and 3 hours respectively. You can also take train from Guangzhou or Xiamen to Yongding. Both train leave in late afternoon and arrive in Yongding at midnight.
◎We provide car hire with English-speaking guide to the area. Please contact us for detail.

Day Tours in Private Car
Fujian Tulou (Earth Building) 1-day tour
Nanjing Fujian Tulou (Earth Building) One Day Tour (Ex Xiamen)
Yongding Hakka Tulou (Earth Building) One Day Tour (Ex Xiamen)
Huaan Tulou(Eryilou)One Day Tour(Ex Xiamen)
Mini Tours
Fujian Tulou (Earth Building) 3-day in-depth tour
Xiamen-Fujian Tulou-Mount. Wuyi 5-day tour
Fujian Tulou (Earth Building) 2-Day Tour (Ex Xiamen)
Xiamen-Fujian Tulou (Earth Building) 3-Day Tour
Xiamen-Fujian Tulou-4-day tour
Xiamen-Fujian Tulou-5-day tour